Compensation Strategies Group provides turnkey services including design, implementation, and management of retirement plans.
In addressing plan design, we give emphasis to increasing client awareness of available options and benefits. In the implementation phase, we place emphasis on creating perceived value with employees. We accomplish this by working with your staff to provide knowledge and the resources necessary to simplify their role in the daily administration of the plan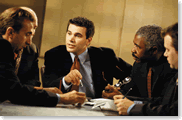 . In plan management, we utilize a team approach wherein your plan is the primary responsibility of one retirement plan analyst supported by our certified technicians; each account has a manager responsible for oversight and quality control.
• Creative, flexible design and installation of the plan is critically important, yet often overlooked. CSG consultants utilize a volume submitter process that combines design flexibility with cost efficiency, and includes a favorable IRS determination letter. Each plan meets client objectives through utilization of a broad scope of design strategies including safe harbor plans, new comparability or cross tested plans, multiple and floor-offset plan designs, defined contribution, and defined benefit plans.
• Daily valuation of 401(k) plans is provided either in-house using our advanced Quantech system or through an appropriate alliance partner including Nationwide, MFS Retirement Systems and Manulife. The plan size and client requested features determine how the service will be delivered.
• Total, accurate, timely administration services are a must with clients. With us, such service is a reality. Included are all qualification testing, government reporting, and participant reporting, as well as processing participant distributions, loans, hardships, and qualified domestic relations orders. We guarantee that quarterly statements processed through our in-house daily valuation system will be mailed to the client plan sponsor or participants within ten business days following the end of each quarter.
• Investment choices from an unbiased, multi-fund family offering can be a major asset to plan sponsors. Selecting the right mix of investment options is a challenge. We give you the freedom to choose from the best names in the mutual fund industry... some 8,000 funds that cover the full spectrum of asset classes. There are funds to meet the diverse investment objectives of employees, such as equity and fixed income, value and growth, domestic and institutional, and corporate and government issues. The broad selections make it easy to comply with ERISA Section 404(c) investment guidelines.
• The employees communication program about the benefits, and gaining their appreciation and understanding of those benefits, is crucial to success of the plan. The retirement plan may be the most important benefit an employer can provide to employees. Our program helps them focus on the essentials that make an individual's plan successful, including maximizing participation, increasing deferrals and maintaining appropriate contributions.
ADVANTAGES
Designing and launching your company's retirement plan can be easier than you think. Compensation Strategies Group provides an understanding of the importance which must be placed on attracting, rewarding and retaining employees while protecting the client's interests and meeting individual personal needs. Our consulting service is impartial and independent of commitments to mutual funds and investment groups.
Each CSG client account team analyzes and administers with experience and certification in federal income taxation, pension laws and regulations, and financial and investment planning.